PLEASE DONATE TO HELP OUR HOMELESS ANIMALS!  
ALL DONATIONS go to help the dogs.  
We are a 100% Volunteer run organization.  Veterinary costs are our single greatest expense.  Without your help, we cannot save animals like Melanie.
Click on the purple DONATE NOW pawprint on the sidebar   
OR use the YELLOW DONATE button in the upper right hand corner
        Melanie was hit by a car and her eye was severely damaged. Instead of being taken to a veterinarian, Melanie was dumped at the nearest shelter.  Many high volume shelters cannot keep animals like Melanie who need specialized medical care.  They do not have the resources to treat and rehabilitate these animals.  This is where a rescue organization like Pet Match can be most useful.  We took in Melanie – and although unfortunately she lost her eye from the accident, she received the veterinary treatment she needed, was cared for in a foster home, recovered well, and became adoptable.  
Without funding from people like you, saving Melanie would not be possible.  
Melanie BEFORE…
Melanie AFTER… Happy and Healthy!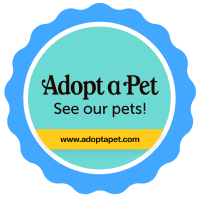 Welcome to Pet Match Rescue
PET MATCH RESCUE, INC. is a non-profit 501(c) (3) volunteer rescue organization committed to saving and protecting the lives of at-risk of euthanasia, stray, and abandoned dogs and puppies. With compassionate care and technical ability, we rehabilitate these deserving rescues by providing proper shelter, diets, training, grooming, socialization, spay/neutering and medical treatment. Our goal is to provide rescues with what they need to get what they deserve…adoption into permanent suitable loving homes.  Based in Newport Beach, we serve Orange County and nearby surrounding counties.
Steps to Adoption