GABRIEL – our latest rescue 
My name is Gabriel.  My story starts at a high volume city shelter where I was brought in stray.  I had what appeared to be a large burn on my back.  It was so very painful, but I was sweet and kind and just quietly whined in sadness.  I could not be put up for adoption due to my significant injury and so at the tender age of one I was facing euthanasia.  Thankfully, a rescue decided to take me in and give me a chance.  They were amazed at how very brave and also how forgiving I was.  
GABRIEL BEFORE
After about a month, with lots of patient care, gentle monitoring and love Gabriel made a complete recovery.  We are proud of little Gabriel and the playful, cheerful dog he has become.  He is a perfect example of the purity, innocence and forgiveness of animals in the face of cruelty.
Your donation helps us save beautiful dogs just like Gabriel who have been abused and discarded.  Please consider a gift for the animals this holiday season and help make the world a better place.
GABRIEL AFTER
Please consider donating to help us rescue dogs like Gabriel!
~CLICK ON THE "DONATE NOW" PURPLE PAWPRINT or the YELLOW DONATE BUTTON AT THE TOP OF THIS PAGE~ 
THANK YOU!  All donations are TAX DEDUCTIBLE.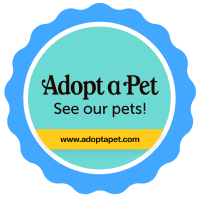 Welcome to Pet Match Rescue
PET MATCH RESCUE, INC. is a non-profit 501(c) (3) volunteer rescue organization committed to saving and protecting the lives of at-risk of euthanasia, stray, and abandoned dogs and puppies. With compassionate care and technical ability, we rehabilitate these deserving rescues by providing proper shelter, diets, training, grooming, socialization, spay/neutering and medical treatment. Our goal is to provide rescues with what they need to get what they deserve…adoption into permanent suitable loving homes.  Based in Newport Beach, we serve Orange County and nearby surrounding counties.
Steps to Adoption