SAMSON'S STORY 
Samson was just a puppy when we rescued him from a very high volume/high kill shelter in LA.  We had heard a young German Shepherd pup was brought in with severe facial injuries.  When we arrived to collect Samson, we were shocked at his condition.  Part of his nose was torn off, his teeth were broken, one eye was badly damaged, and he was starved to skin and bones.  Patches of fur had fallen away as a result of severe malnutrition.  No one could tell us exactly what happened to Samson, but there was suspicion that he had been thrown from a moving car.  What was most amazing, however, is that upon first meeting Samson we discovered he was sweet, friendly, affectionate and eager for attention despite his horrific injuries and abuse.  After several months of intensive veterinary care and rehabilitation, Samson was ready for adoption.  It didn't take long before Samson's incredible spirit got the attention of a lovely local family.  They affectionately renamed him Presley because of his permanently curled upper lip.  Samson (Presley) is a true success story, worth every penny, and a testament to the forgiving nature of animals. 
Please consider donating to help us rescue dogs just like him!
SAMSON THE DAY WE RESCUED HIM……
**********************************************************************************
SAMSON (PRESLEY) NOW…… HAPPY AND HEALTHY WITH HIS NEW FAMILY!
PLEASE CLICK ON THE "DONATE NOW" PAW AT THE RIGHT TO HELP 
 OR email us at adoptpetmatch@gmail.com
THANK YOU!  All donations are TAX DEDUCTIBLE.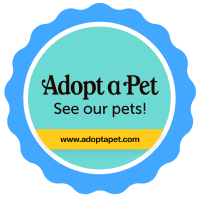 Welcome to Pet Match Rescue
PET MATCH RESCUE, INC. is a non-profit 501(c) (3) volunteer rescue organization committed to saving and protecting the lives of at-risk of euthanasia, stray, and abandoned dogs and puppies. With compassionate care and technical ability, we rehabilitate these deserving rescues by providing proper shelter, diets, training, grooming, socialization, spay/neutering and medical treatment. Our goal is to provide rescues with what they need to get what they deserve…adoption into permanent suitable loving homes.  Based in Newport Beach, we serve Orange County and nearby surrounding counties.
Steps to Adoption