PLEASE DONATE TO HELP WITH PANCAKE'S SURGERY AND RECOVERY!  Without your help, we cannot save animals like Pancake.  Thank you!!!
Click on the purple DONATE NOW pawprint on the sidebar   
OR use the YELLOW DONATE button in the upper right hand corner
        Pancake was discovered by our team right before Christmas.  She was dumped at a local shelter with a scary looking, ballooning belly.  She was completely unadoptable and facing euthanasia.  We wanted to give Pancake a chance and so after a visit to our veterinarian we learned that Pancake had an immense and painful hernia.  Her organs and intestines were literally falling out of her.  After a day in extensive surgery, Pancake's belly has been repaired and she is expected to make a full recovery.  Pancake is a friendly, sweet dog who deserves much better.  This is a perfect example of what happens to a dog when the owners are so negligent that they don't provide even an ounce of care.  Pancake's hernia was completely repairable and took a long time to get this large.  Left any longer, and Pancake would have died.  
Pancake DAY OF RESCUE…
Pancake AFTER SURGERY…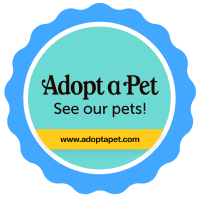 Welcome to Pet Match Rescue
PET MATCH RESCUE, INC. is a non-profit 501(c) (3) volunteer rescue organization committed to saving and protecting the lives of at-risk of euthanasia, stray, and abandoned dogs and puppies. With compassionate care and technical ability, we rehabilitate these deserving rescues by providing proper shelter, diets, training, grooming, socialization, spay/neutering and medical treatment. Our goal is to provide rescues with what they need to get what they deserve…adoption into permanent suitable loving homes.  Based in Newport Beach, we serve Orange County and nearby surrounding counties.
Steps to Adoption